The National Parks have some of the great trail hikes.  The key is to go when no one else is there, which means: not summer.  Watch the weather maps and spot a window of opportunity for a pleasant, un-crowded hike.  Winters in Zion National Park are often mild with 60 degree daytime temperatures possible.  DayHiker has hiked this majestic red canyon the past two winters around Jan 1, found the weather great and the accommodations (Desert Pearl Inn, Springdale) upscale.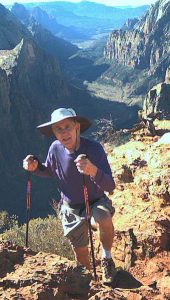 Two hikes rated "strenuous" by the visitor's guide are as scenic as any in the world.  Angels Landing, not for the vertigo inclined, is a unique, short (5mi round trip, 1488ft) climb with its long drop-offs on a narrow trail the last 0.5 mi.  Attached to rocks, chains let your arms do some of the work as you move gingerly along the top of the ridge.  The spectacular view from the top looks down to the valley floor of Zion Canyon and up to higher ridges, one of which is Observation Pt.
To round out an "extreme hike" day adventure go a mile from the Angels Landing trail head at the Grotto picnic area to the Observation Pt trail head at the Weeping Rock picnic area.  A well maintained (i.e., paved) switch back trail lifts you up quickly to Echo Canyon where shear rock walls surround the trail.  Another series of switchbacks carved into the face the rock canyon wall is followed by a level path through some trees to the expansive outlook over the Zion canyon at Observation Pt.